By Mark Barling, Regional Sales Director
This article first appeared in HRD Magazine August edition.
Sometimes the bells and whistles get in the way of why recognition is so important in the first place. HRD outlines why the fundamentals matter.
Few would disagree that the workplace has changed more in the last two or three years than it probably has in the preceding two decades – and these changes are making it harder than ever to successfully engage employees. Consider the following: demographics have changed; there are more part-time and casual workers; people don't necessarily have a bricks-and-mortar place to show up to work; and there's an increasing need (and demand) for flexible workplaces – to name just a few upheavals.
"The changes taking place are forcing HR professionals to think about the practices and the ways in which we connect with our employees and the way we facilitate their successes and their achievements on a day-today basis," says Mark Barling, Regional Sales Director, Grass Roots Asia-Pacific.
Barling says new technology is adding another layer of complexity – but also a new wave of solutions – for employers who want to acknowledge the exceptional work of their employees.
In a complex world, it can pay dividends to return to basics. But just what is best practice reward and recognition in 2017?
Reward vs recognition
Firstly, a clarification is needed. While it appears that 'reward' is often tied directly to 'recognition', it seems Australian organisations typically favour one over the other – but it may not be the right one.
Jeremy Salter, Employee Engagement Lead at Grass Roots Asia-Pacific, suggests the amount an organisation invests in discretionary rewards is typically far greater than the amount invested in employee recognition. This is perhaps surprising as the evidence suggests that employee recognition is a more effective motivational tool than employee reward.
An underinvestment in recognition can reflect an over-dependence on reward. In some organisations recognition and reward are joined at the hip. The value of recognition is contingent upon the size of the reward.
One way to reduce this costly dependence on reward is to increase the stand-alone value of recognition within an organisation.
Social technologies have helped. Social recognition programs amplify the value of employee recognition by increasing immediacy and visibility. Salter suggests the stand-alone value of employee recognition is further enhanced by integrating employee recognition with other talent management processes, including performance, recruiting and on-boarding.
One other factor as to why 'reward' is less appealing is simply the cost to the business. Industry benchmarks suggest 1–2% of payroll should be allocated to non-cash reward (i.e. outside of payroll). However, challenges including FBT compliance for employees mean such rates could be excessive. The inverse of course is also true. Too little reward and employees will see that it is tokenistic and not worth the discretionary effort to strive for.
"Whilst reward is important and should be used in conjunction with a modern recognition program, it's the organisations that take employee recognition seriously who are reducing their dependence upon reward," says Barling.
Getting the foundations right
Barling suggests there are three critical aspects to consider for any organisation looking to clean the slate and reinvent its recognition program.
Culture. If a company values its culture, it's essential to define its purpose. Bersin by Deloitte, in its Predictions for 2017 report, suggests that companies with a strong sense of purpose and a clearly defined set of cultural values outperform their peers. So the basis for any recognition program must be the vision, mission and objectives that the business is centred on. "By aligning recognition behaviour to values or priorities, each time a person recognises a colleague they are reinforcing the culture of their organisation," Barling says.

Making the case for change. HR arguably has the chief role to play in creating the case for change. Quite often that case involves tough conversations around reward and recognition budgets that have evolved in the hands of business owners over time. Key considerations include:

Budgets – Are they centralised or decentralised? Do you need to 'sweep the corridors' to secure funding?
ROI – What are the measures you will be judged by? Great recognition lowers turnover – is this what the CEO will buy into or is it more about aligning employees to company strategy through behaviours?
Data quality – Do you have a single view of your employees?
Who are the key business stakeholders that need to endorse your views and plans?
Do technology barriers or other technology projects (i.e. HRIS upgrade) exist that could influence how your new approach to R&R is prioritised within your business?
What is the profile of your workforce? Are they dispersed, more online versus offline, in locations with limited Wi-Fi, or more blue collar than white collar?

Bringing the program to life. Barling suggests the best programs start centralised and evolve to feel like the business as a whole 'owns' recognition. While HR might be the catalyst for change, when employees feel the act of recognition is within their control, the organisation has achieved R&R maturity.
All about culture
Adding to these foundational elements is the culture of an organisation. Does it foster recognition? Although recognition is actually one of the simplest things to do, Barling says we often find it hard, because we may feel embarrassed giving or receiving in-person praise; or we are separated by geography or even floors in an office; or the organisation has made it hard through complicated nomination programs that take weeks to get recognition to the actual employee.
"Most leaders understand the power of recognition. But many don't realise the importance of giving frequent, timely and relevant recognition both in person and via programs like those run by Grass Roots," Barling says.
To ensure leaders in businesses know what good recognition is, Grass Roots has launched Achievers University. Available to administrators within Grass Roots programs, the University has modules to help train people in what good recognition looks like and why it's important to be recognising people every day. This enables HR leaders to work with their peers to implement the best practice R&R for their business.
Leaders also need real-time data. Comprehensive reporting suites are needed to inform leaders of how they and their teams are recognising and rewarding their colleagues.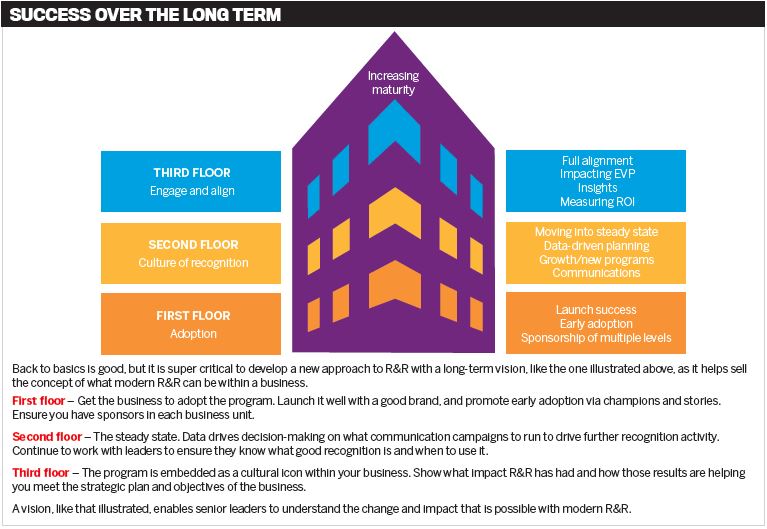 Finally, the role of the C-suite should never be underestimated. Telstra's program (see boxout below) was so successful because former CEO David Thodey was one of the highest givers of recognition. This was visible to all employees through recognition news feeds, helping make recognition a new communication channel.
TWO RECOGNITION SUCCESS STORIES
Telstra completely rethought the way it looked at R&R five years ago to help the organisation put the customer at the centre of its employees' worlds. Zing was the resulting recognition program – social, peer-to-peer, democratic. The result: a 12% lift in attitudes to how employees are recognised and rewarded at Telstra. And a new, positive recognition language about 'Zinging' was created!

A regional Asia-Pacific airline determined that the reward element of its R&R strategy wasn't increasing people's engagement. By increasing the stand-alone value of recognition, they were able to reduce their reward spend by 80%, yet increase the recognition activity by over 100%. Recognition is no longer contingent on reward.
Recognition in the flow of work
To truly create a culture that fosters recognition, it's necessary to build recognition into the 'flow of work' so employees don't have to think about recognising someone, they are able to just do it.
The Achievers Employee Success platform, makes it easier for businesses to integrate more recognition activity in the one place. Using open APIs – widgets that can be deployed in just about any application – and modules such as Engagement Pulse, the Achievers hub ensures that employees don't have to access multiple systems, removing a key barrier for businesses looking to develop their R&R strategy.
Native mobile apps then extend the usability of technology. "You can empower your employees now to witness a great act at the end of a day and have an employee recognise another for thinking 'Customer First'. That person's manager reads the recognition, promotes it via an Everyday Award – think a nominal fixed value such as $50 – and the recognised employee gets a double burst of recognition. And with the mobile app, employees can see the recognition immediately and can even spend the reward on a treat or the basics such as shopping on their way home."
A helping hand
Truly meaningful reward and recognition strategies need to be broader and to encompass more elements than ever, as the nature of what people want to be recognised for, and the different types of reward that now exist, add complexity to a dramatically different HR environment. Technology – and trusted business partners – can ensure your workplace not only survives these tumultuous times, but thrives.
With our Achievers Employee Success platform we help businesses better engage their employees through social recognition, helping increase employee engagement and ultimately creating a happier, healthier and safer workplace.